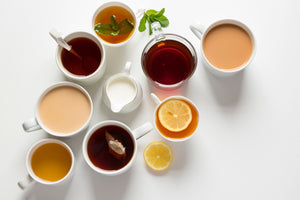 Why Blink Tea Curates Teas by Bold, Medium and Mild
At Blink Tea we want to differentiate ourselves to people who love tea and people who want to love tea, and to make tea a part of your lifestyle. By categorizing our teas, herbals and latte blends by Bold, Medium and Mild we speak not only to the amount of caffeine in each, but also to the tea experience being sought. Tea has been around for over 5000 years, but there's still a fair amount of confusion over caffeine levels and the enormity of choice. If picking tea nowadays is almost like choosing wine, who wouldn't benefit from a little guidance? 
How it Works
Blink Tea curates its collection of teas, herbals and latte blends by Bold, Medium and Mild, with a range of tastes in each vertical. We've included a selection of tea types in each category, from straight teas to scented, herbals and latte blends. We've tested all teas (yes, lots of testing) and placed them where they make the most sense. You might say a side benefit is that we're kind of making you your own tea sommelier. 
Bold Teas – Caffeine Levels: 45 to 60mg per Cup
Bold teas are those that power you up for the day or help get you through an important project. These are generally black teas, like Organic Assam Breakfast or the amino acid packed Matcha Uji Ceremonial Grade. Scented and exotic teas like Cream of Earl Grey or a Peach Apricot, or the exotic Masala Chai can give you the same lift. Imperial Golden Monkey or an Organic Darjeeling, the Champagne of teas, give robust teas a celebratory quality. 
Medium Teas – Caffeine Levels: 35 to 45mg per Cup
Medium teas like Organic Golden Green, a roasted green tea from China and the steamed Sencha Kyoto from Japan are two straight green teas that can be enjoyed any time of day. Dark and light oolongs are renowned for their exotic flavours and aromatics, while fermented Pu'Erhs are celebrated for their earthiness and probiotic benefits. Scented green teas introduce florals and botanicals into the mix, and delight with their robust nature.
Mild Teas – Caffeine Levels: 0 to 35mg per Cup
If you're looking for something to swipe the day away, Mild Teas and herbals are tasty options. The delicate Imperial Jasmine, Silver Needle or coffee-like Organic Hojicha offer a satisfying end to a meal. Antioxidant powerhouse Rooibos is a caffeine and calorie-free indulgence when blended with herbs or botanicals. Herbals with chamomile, peppermint or elderberry and hibiscus bring centuries-old feel-good qualities to any cup and can also be enjoyed earlier in the day.
Tea is all about connection, whether to the mindfulness that comes from preparing it or where and how you enjoy it. In curating our teas by Bold, Medium and Mild we want to take you by the hand to the authentic tea experience you want, when you want. It's a fresh approach to tea that caters to your lifestyle and aims to make your world a better place, in a Blink!