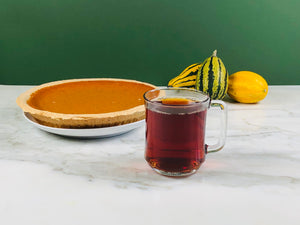 Five Amazing Teas to Pair with Pumpkin Pie
Last Thanksgiving we created a post that matched teas with each and every course of the meal. While you can pair tea with anything from turkey to ham, scalloped potatoes to cranberry sauce, peas to green beans, yams to carrots, we ended up with a list as long as your arm. Not an entirely bad thing, but a bit all over the place. 
 
This time around we've zeroed in on pairing tea with one course, dessert. And not just any dessert, but pumpkin pie. We've chosen five teas that pair exceedingly well with pumpkin pie, and hit your palate precisely when you "couldn't possibly eat another thing, but it's pumpkin pie and it's Thanksgiving!" At least tea has no calories, and these five teas elevate pumpkin pie like you wouldn't believe.
Imperial Jasmine Tea 
Pumpkin Pie and Jasmine Tea
Absolutely! The soft and warm floral notes of Imperial Jasmine tea blend well with the cinnamon, ginger and nutmeg of pumpkin pie. Rather than cut through the spicy sweetness, jasmine tea compliments it, like the right accessories for the perfect outfit. Jasmine tea is also known for its digestive qualities, and can help tame the Thanksgiving feast.
Organic Hojicha Tea
Pumpkin Pie and Hojicha Tea
Notes of coffee, chestnut and caramel in Organic Hojicha tea help to contrast the sweetness of pumpkin pie and at the same time play up the pie's spicy character. The roasted green leaves of Hojicha craft a tea that mimics the flavour of a blonde coffee, with less than a third of the caffeine. Try Hojicha with pumpkin pie, but consider adding it to your daily rotation. 
 Organic Roasted Iron Goddess
Pumpkin Pie and Oolong Tea
If you're going to try an oolong tea with pumpkin pie, stick to a dark oolong like an Organic Roasted Iron Goddess. Hints of baked pear, chestnut and granola compliment the pie's ginger, cinnamon and nutmeg. However, because this is a long-oxidized oolong, the tea has a bit more bite that provides some contrast to the pie's creamy sweetness.
Organic Assam Breakfast 
Pumpkin Pie and Assam Tea
A black tea like an Organic Assam is the way to go if you wish to really cut the sweetness of pumpkin pie. Try to find something that's a blend of teas from different regions like India, Sri Lanka and China. The malty, cocoa notes of a blended black tea can slice through the sweet pie, but the effect on the palate won't be as definite as, say, coffee.
Organic Lapsang Souchong
Pumpkin Pie and Lapsang Souchong Tea
Now here's a game changer! The campfire smokiness of an Organic Lapsang Souchong tea cuts through a pumpkin pie's sweetness like an Assam tea, but with a unique difference. The smokiness of the Lapsang Souchong adds an ever-so-slight reminder of maple to the pie. It's really quite unique and definitely worth a try.
 
These five teas each compliment and contrast traditional pumpkin pie in their own unique way. So much so, that it encourages turning Thanksgiving dessert into its own special mini course – choosing a special tea to go with the pie and turning it into a taste event of its own. That it's easy to enjoy tea without milk or sweetener lets you leave the table thinking that in some tiny way you've considered your waistline!