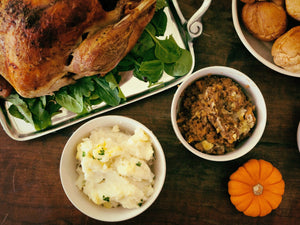 Pairing Teas with Thanksgiving
Thanksgiving. A time to kick back with family and friends and take a phone break. If you're a tea lover (as you all should be) we've got some ideas to incorporate teas throughout the day, from "come on in" right through to dessert. We're making you tea sommelier for the day!
 
Like grapes for wine, tea is an agricultural crop. Unique flavours and aromatics are driven by such factors as terroir, altitude, climate and processing. Just think - artisans have captivated our palates for thousands of years by lovingly crafting teas from two sub-species of the same tea leaf. They've done the hard work. Now, you get the fun part. 
The French 75 
Teas That Say Welcome! 
You can go in a couple of directions here. If you're planning teas like a flight of wines at a restaurant, this is where you set the stage. Choose a tea that's meant to impress, like an Imperial Dragonwell, a First Flush Darjeeling or light Oolong. These teas are good enough be served on their own, and pair well with most hors d'oeuvres.
 
If you'd rather start things off with a bang, sky's the limit. Rather than hot tea, create a tea mock or cocktail. Could be as easy as tea simple syrup with soda, or as daring as an Earl Grey & Gin martini or a Vanilla Almond spritzer. Get creative! 
Teas for Thanksgiving Dinner
This is where choices get a bit easier. Whether you're planning a tea flight for the day or kicking things off with a tea cocktail, Thanksgiving is a rich meal, with a strong variety of flavours. You'll want to choose a tea that will not be overpowered by roast turkey with gravy, buttery mashed potatoes and tart cranberry sauce.  And in this case, all roads lead to black tea.
But not just any black tea. A good option might be Assam, with tannins and a robust nature that will complement the meal rather than get lost in the parade of flavours. Darjeeling would also work, as would Hojicha, a green tea with coffee-like appeal. This is a great substitute for black tea if you're watching your caffeine intake. 
Time for Dessert!
Dessert Pairings
 
The tea pairing guidelines are simple, allowing you to focus on the tea you would like to serve. Lighter desserts and fruits pair best with white or green teas, or even a light oolong. The darker and richer the dessert gets, the darker the tea. A dark oolong or an Assam pair well with everything from pie to chocolate.
 
This same principle applies for cheeses. Lighter teas for creamy, light cheeses to roasted green tea and oolong for medium cheeses, to darker teas for sharp cheeses. The goal is to offer teas that are complimentary to the cheeses being served.
 
Save scented teas like Earl Grey or Sakura Rose for desserts with a more singular flavour. Think Cream of Earl Grey with vanilla ice cream or wafers. A floral Sakura Rose would team up well with madeleines or something decadently cream-filled.
 
A final option: make tea the dessert! An herbal like Vanilla Almond Rooibos offers tastes of amaretto and marzipan with zero calories. Moringa Mint or fruity Elderberry Hibiscus can lure you past the dessert line. An added benefit is that most herbals are caffeine-free. Focus on great cups and accessories. We all drink with our eyes first!
 
Curating tea into Thanksgiving Day offers a ton of creative freedom. It's fun, easy to do and can yield dramatic results. Plus, this could be your chance to introduce someone to teas they may not have tried – sharing is caring! Even better, you'll have tea for long after Thanksgiving has passed. Now that's a leftover we can live with!