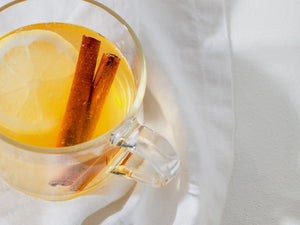 Keep Warm with a Tea Hot Toddy
Imagine combining the soothing warmth of a Hot Toddy with the comfort of your favourite tea. Let's do it!
What is a Hot Toddy?
A Hot Toddy is a warm mixed drink usually made with liquor, water and a sweetener such as honey or sugar, plus the addition of herbs & spices for a flavour boost. Whether you choose to enjoy a hot toddy after a day on the slopes, when you're a bit under the weather or to relax before bedtime, try branching out with some extras (like tea!) to enhance the taste!
These 3 Hot Toddy recipes with black or green tea (including one non-alcoholic) are sure to inspire you to concoct this warm tea beverage on a cold winter's night.
Fran Drescher's Green Tea Hot Toddy
The simplest of preparations for this Green Tea Hot Toddy with ingredients that you likely have at home. Get the recipe.
We suggest the Organic Golden Green for a simple, clean flavour or Organic Lavender Sencha to add some crisp, fruity notes. 
Black Tea Hot Toddy with Brandy
This Black Tea Hot Toddy recipe has the delightful blend of warming spices cloves and cinnamon for an extra cozy drink. Full recipe.
We suggest keeping it simple with a robust black tea like Organic Assam Breakfast or Organic Lapsang Souchong for some added smokiness.
Green Tea Non-Alcoholic Hot Toddy
Warm up with a Green Tea Hot Toddy Mocktail. The addition of orange juice dials up the sweetness on this variation of the Hot Toddy. Get the recipe.
 
Warm up with tea hot toddy! The addition of black, green or herbal tea adds a punch of flavour to an already comforting and cozy warm drink, perfect for any chilly day.