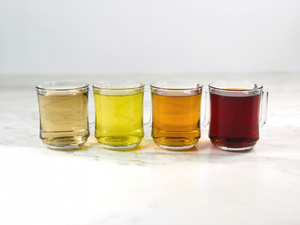 A No-Fail Guide to Steeping Teas at the Right Temperature
For many of us, a cup of tea is only as good as the delicious escape it offers from the daily madness. For others it's the aromatics or the taste, how your favourite tea takes a healthy new milk or sweetener. But all of these best intentions can be wiped away by one false move - steeping tea at the wrong water temperature. Water that is too hot can actually burn leaves and release bitter tannins into your tea. Who wants that? 
Teas are cultivated in a variety of climate and soil conditions. Over thousands of years, oodles (lots of oodles) of effort have been expended to craft each tea; when to plant, pluck, how to process and blend. As much passion goes into the creation of each tea as into a fine burgundy or cave-aged Parmigiano-Reggiano. Science and Mother Nature figured it out - over a cup of tea of course. Who are you or I to muck it up?
Here is a quick guide to optimal water temperatures and times to steep white, green, oolong and black teas. It's general, so make sure to follow the steeping instructions on your package of tea. The easiest way to heat water for tea is by using a temperature-controlled kettle. If you don't have one, we're including how long to let boiled water cool before steeping your highly anticipated cup.
Silver Needle Tea
White Teas:
White teas like Silver Needle or White Peony are the least processed of teas. The leaves are simply plucked, dried in the sun and steamed lightly if at all. They offer a ballet of delicate flavours - honeysuckle, grape and peach and many more. These teas should be steeped at approximately 75˚C (175˚F) for roughly 4 – 5 minutes. Let boiling water cool for about five minutes before steeping white tea.
Sencha Kyoto
Green Teas:
Herbaceous Chinese green teas and emerald green Japanese Senchas are slightly more processed than white teas. And by processed we mean Chinese green teas are generally fired or baked in processing, while Japanese green teas are most often steamed. Green teas should be steeped at 75˚C (175˚F) for approximately 1 – 2 minutes. As for white teas, allow boiling water to cool for about five minutes before steeping.
Organic Roasted Iron Goddess
Oolong Teas:
Exotic oolong teas belong in their own tea category. Typically grown at higher elevations in Taiwan and China, oolongs earn their distinguishing taste profiles according to when oxidation of the leaves is stopped. Lighter oolongs, like a Milk Oolong are oxidized less than a robust Roasted Iron Goddess, which is oxidized longer. Oolong teas should be steeped at approximately 85˚C (185˚F) for 3 – 5 minutes. This means a kettle of boiling water should be allowed to cool for a good three or four minutes before steeping. 
Organic Assam Breakfast
Black Teas:
Black teas like bold Assam, delicate Darjeeling or smoky Lapsang Souchong offer tastes that range as far and wide as where they're grown and processed. Most black teas are fired, which makes them rich and robust and a perfect alternative to coffee. Black teas are at their best when steeped at about 95˚C (200˚F) for roughly 3 minutes. Let boiling water cool for a minute or two before steeping, just enough time to get your leaves ready!
Some extra steeping tips:
Filtered water is often suggested as best for steeping tea, but fresh, cold water will do. And don't forget to descale your kettle every now and then.
Add water to tea leaves and not the other way around. This goes for whether you're using a tea bag or loose-leaf.
You can re-steep most leaves from the teas mentioned here a few times. Just add a minute or so for each subsequent steep, and only use the tea leaves that day.
Making a pot of tea? Add an extra scoop of tea leaves or pyramid bag for the pot!