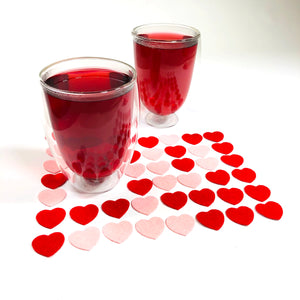 Valentine's Day Gift Guide for Tea Lovers
From bold, flavourful teas to calming herbals and latte blends to style-driven, gotta-have-it tea accessories there is something for every tea lover on your list!
This year send your loved ones the gift of tea, and each time they steep a cup you'll come to mind. It's like a warm hug from down the street or across the country. 
With so many of us working and schooling from home, convenience and comfort are key. Traditional gifts like flowers and chocolates are great, but this year why not show your love with something that'll last more than a few days, or a few minutes when it comes to chocolate.
While you're at it, why not get a little treat for yourself too? No need to head out into the cold for your beloved tea latte. Let us send it to you!
Tea is the the world's most consumed beverage after water and for plenty of good reasons. It's healthy and hydrating, tasty and can be enjoyed at any time of day. Think about it - a delish cup of tea might divert you from calorie driven snacks in the evening, as good a place to start as any!
 Sakura Rose Tea
Roses are synonymous with Valentine's Day. This year, instead of fresh roses give the gift of Organic Sakura Rose tea! Organic Green Sencha tea mingles with jasmine and rose petals, peach and cherry for a satisfying, discreetly floral experience. These roses will last much longer than a fresh bouquet!
Tea Sample Packs
Take the guess-work out of it and send a tea sample pack! Each sample set has been curated with a wide selection of taste experiences. Available in loose-leaf sets of six in Bold, Medium and Mild. Get one for you too!
Tea on the Go
Is your tea-lover always on the go? A sleek Kinto Travel Tumbler paired with a box of pyramid teas sets up your gift with hot tea anytime, anywhere! Whether taking a zoom-break in a wintry park or hitting the slopes, the Kinto is leak-free and keeps tea piping hot for over 6 hours! 
For the Cook and Baker
Teas are not just for drinking! They can be used in tempting baked goods, flavourful soups and even made into frozen treats.
Superfine tea latte blends are perfect for integrating into cookies, cakes, ice cream and even smoothies! The only limit is your culinary soul mate's imagination. 
Whether sending off a gift to your loved one(s) or picking up a treat for yourself, tea is always a great option. It's warm, it's aromatic and healthy. Because a box or pouch of tea lasts a while, they'll think of you every time they make a cup.