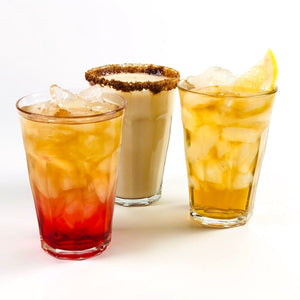 Three Easy Organic Hojicha Cold Brew Recipe Ideas
Summer time calls for iced tea and cold brew tea! With one batch of Organic Hojicha cold brew tea you can make 3 refreshing beverages. Each is so easy so tasty you'll be making your favourite again and again!
Hojicha is a roasted green tea with flavours mimic those of a light roast coffee, but with very low caffeine content. This Japanese green tea originated in Kyoto, Japan in the 1920's, and to this day is still grown and processed in Kyoto.
3 Easy Organic Hojicha Cold Brew Recipes All of these beverages start with Hojicha cold brew. We like to make cold brew tea in the Hario Filter-in Cold Brew Bottle, but you can use a pitcher, jug or large mason jar.
Cold Brew Organic Hojicha on Ice
Fill a glass with ice, add cold brew hojicha and sweetener (if desired). A liquid sweetener like agave, honey or maple syrup works best in iced tea to easily mix in and disperse throughout the drink. Garnish with a lemon wedge.
Cold Brew Organic Hojicha with Milk
Rim your glass with raw sugar or coconut sugar. Fill the glass ¾ of the way with tea, add liquid sweetener if using, and top with milk or a plant-based option.
Rising Sun (Hojicha with Grenadine) Fill a glass with ice and add a teaspoon of grenadine. Combine 250 ml (8 oz) of hojicha cold brew tea with 2 teaspoons of lemon juice and slowly pour over the ice cubes for a layered effect.
Resources:
Organic Hojicha Tea, Explained
Homemade Simple Syrup
Liquid Honey for Cold Brew or Iced Tea
Learn how to Make Cold Brew Tea at home