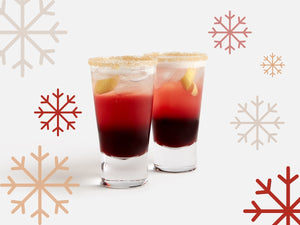 The Blink Tea Holiday Cocktail
This is a lovely cocktail for the holiday season or any time of year. The layering of Prosecco, juices and Organic Assam tea makes this feel like two drinks instead of one. It's not too sweet, not too sour; it's colourful and fizzy. And if you squint your eyes, it kind of looks like Santa. Well, maybe after one or two ;)  
Ingredients: Yield 4 servings
½ cup (125mL) Vodka
½ cup (125mL) Pomegranate Juice
½ cup (125mL) Black Currant juice
3 tbsp. (45mL) Assam Simple Syrup (recipe follows)
chilled Prosecco
1/3 cup (80mL) brown sugar
lemon wedges
ice 
Organic Assam Tea
Assam Simple Syrup – Yield One Cup
1 cup (250mL) boiled water
2 Organic Assam tea bags
1 cup (250mL) granulated sugar
Directions:
In small saucepan steep Assam teabags in the boiled water for 5 minutes.
Discard teabags and add sugar.
Over medium-high heat, stir sugar until it fully dissolves.
Allow mixture to cool.
To Assemble Cocktail:
Swipe lemon wedge around rim of highball glass, and dip rim in brown sugar.
Add several ice cubes to glass.
In a cocktail shaker half full of ice add 1-ounce vodka, one ounce each of pomegranate and black currant juice and 2 ounces cooled Assam Simple Syrup.
Shake vigorously and pour over ice in glass.
Top with chilled Prosecco.
Serve immediately.