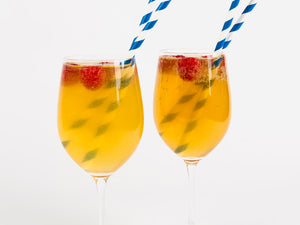 Summer Cold Tea Tips
The hot days of summer are upon us, so it's the perfect time to share a few ways to make your cold tea adventures a tasty success. If any of these tips spark a cool recipe idea, please share at wink@blinktea.com We'd love to give it a try!! 
Tea Simple Syrups

Simple Syrups: many people suggest making a simple syrup first and then adding in the tea to steep. Flip it around for better results! Steep the tea in hot water first, remove and then dissolve in sugar to create the syrup. The tea steeps easier in water and you get more flavour. Plus, the process is a whole lot less sticky! Here's our simple syrup recipe: From left to right: Organic Lavender Sencha, Cream of Earl Grey, Organic Elderberry Hibiscus
Cold Brew: steeping tea in hot water for iced tea releases tannins in tea leaves. This results in a slight bitterness when the tea is cooled. Cold brewing tea traps the tannins in the tea leaves, resulting in a more delicate and authentic taste. Even better, cold brew teas don't need a kettle. Just pour water over the tea leaves and let it steep in the fridge.    
Steep Strong: good rule of thumb: if you're making four cups of cold brew (or iced tea) add enough tea for five cups, and scale it up as you make a bigger batch. The tea's extra strength cuts dilution from ice and mixers. 
Tea Ice Cubes add Colour! 
Tea Ice Cubes: imagine a slick monochromatic drink, or a flashy mash-up of colour. With so many herbals available like this Ultra Violet, you've got a rainbow's worth of concoctions just waiting to amaze your friends. Experiment and have some delicious fun! 
Cold Foam - It's Easy! 
Cold Foam: add a whole new flavour dimension to cold tea, like an Assam. The simple trick to frothing up the perfect cold foam is to use skim milk, and not milk with fat. Believe us, it works like a charm. Amp up the foam's flavour with a dash of simple syrup or vanilla. 
Masala-Gato!
Tea Affogato: the easiest and tastiest way to create an Affogato with tea is to use a tea Latte Blend. Whip up some Masala Chai Latte Blend for a Masala-gato or Earl Grey Latte Blend over vanilla ice cream for a creamy, rich London Fog!
There you go  - a few ways to enjoy your favourite teas on a warm day. In fact, these ideas can work for any day of the year. Let your imagination take your taste buds on a delicious journey!