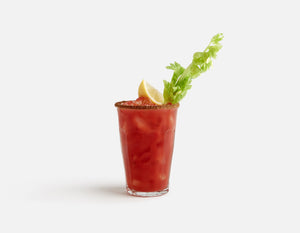 Recipe for a Smoky Tea Caesar
This quintessential brunch libation is kicked up a notch with Organic Lapsang Souchong tea. The tea's smokiness is the perfect new-kid-on-the-block in this otherwise trad mix. You'll love it and your brunch mates will love you for making this teeny taste tweak on an old favourite!
Smoky Tea Caesar recipe
 
Ingredients (makes 4 servings)
2 heaping tsp. Organic Lapsang Souchong
2 cups (500mL) boiling water
2 limes, each cut into four wedges
3 tbsp. (45mL) celery salt
4 cups (1000mL) ice
½ cup (130mL) vodka
4 dashes Tabasco sauce
4 dashes Worcestershire sauce
32 fluid ounces (4 cups) Caesar mix (or tomato and clam juice cocktail), chilled
celery stalks for garnish (as many as you like ;)
Directions: (for one 8-ounce cocktail):
Steep Organic Lapsang Souchong tea in boiling water for five minutes.
After 5 minutes, strain out the tea leaves and let tea cool to room temperature. If you prefer, you can prepare the tea a couple of days in advance and store in the fridge.
Swipe the rim of a highball cocktail glass with lime wedge.
Rim the glass by pouring celery salt in small dish, and place rim of the glass into the salt to coat.
Add ice to glass.
Pour one ounce of cooled Organic Lapsang Souchong tea into glass.
Add 1-ounce vodka, and a dash each of Worcestershire and Tabasco sauce.
Top with Caesar mix or tomato and clam juice cocktail.
Garnish with celery stalk(s) and a wedge of lime.
Enjoy!