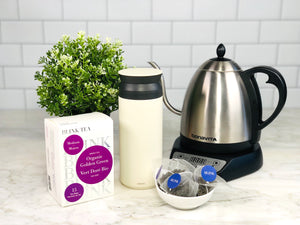 Removing the "Fussy" from your Morning Tea Routine
If you're like me, the last thing you want first thing in the morning is complication. And that's why we've devised a few tips and tricks to keep your tea routine nice and easy. While they're far from rocket science, these ideas will make sure your tea prep will free you up to consider the day ahead or just revel in mindfulness. 
Loose Leaf Tea
Number one tip is to prepare your tea sachets the night before. In fact, why not scoop your favourite loose leaf teas for the entire week? It'll be done in a flash and you'll have a whole selection right there waiting for you. If there's more than one tea lover in your household how about setting out cups, your teapot and kettle too? Just pick what you want and get steeping!
Travel Tea
Same tips as for loose leaf, but slightly tweaked. This a great opportunity to make sure your travel tea tumbler is nice and clean. If you have more than one tea tumbler, prepping the night before allows you to ponder which tumbler you'd like to spend the day with. And, if you're setting out a tea kettle, it's a good time to check and see if it too needs a cleaning or a descaling. You want nothing to come between you and your favourite libation!
Matcha
The preparation of matcha commands perhaps the most reverence of any tea. Setting out the matcha bowl, whisk and scoop the night before lets you dive right into the preparation ceremony rather than slamming through cupboards and drawers and putting a frown on a peaceful experience. It's also a great chance to do a bit of a whisk inspection, to make sure it's clean and in good working order. Matcha's not cheap, so it's worth a couple of minutes to make sure you'll enjoy every sip.
Lattes
Lattes are where you can let your tastebuds run free and because of this, things can get a bit complex. Generally speaking it's always nice to pick your blend of choice and anything else that will go along with it, like sweeteners or vanilla. If you like to mix it up in terms of glassware, now's your chance to set out what you like. And, depending on what kind of frother you use, check to make sure it's clean and if it uses batteries that they're at full charge.
Besides being healthy and hydrating and the ton of other benefits, the nice thing about tea is that the preparation offers a moment of pause. Even the simple act of popping a bag into a cup and adding hot water is built around a certain peace and quiet, two things I'm sure we can all use a bit more of these days. Simple little steps to make sure everything is at the ready helps you dive into this peaceful moment with delightful ease.