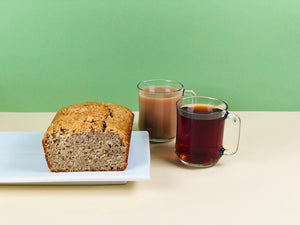 Organic Masala Chai Yogurt Loaf Cake
Loaf cakes are easy for anyone to master, and the Masala Chai Yogurt Loaf is a winner in both taste and texture. The cardamom, ginger, cinnamon and cloves from the Organic Masala Chai tea spice up the flavour, and infuse your home with the most enticing aromas as it's baking. The yogurt pretty much guarantees this loaf cake will be moist, and using coarse salt will offer a delightful contrast of sweet and savoury from bite to glorious bite. This loaf is no-fail, and the taste builds after a few days in the fridge. It's a real winner!
Masala Chai Loose-Leaf Tea Before and After Grinding
 
Ingredients: (for one 9 x 5" loaf)
- 1 cup vegetable oil, plus more for pan
- 2 cups all-purpose flour
- 1 tsp coarse, or Kosher salt
- ½ tsp baking powder
- ½ tsp baking soda
- 2 large eggs
- 1¼ cups granulated sugar
- 1 cup plain, whole milk yogurt (2% or higher will work)
- ¼ cup Organic Masala Chai loose-leaf tea
- 2 tsp vanilla extract
- 1½ tbsp raw sugar 

Method:
- Preheat oven to 325 degrees. Lightly coat a 9x5" loaf pan with vegetable oil and line with parchment paper, leaving overhang on long sides. Lightly coat parchment paper with vegetable oil.
- Grind Organic Masala Chai tea into a coarse powder consistency using a spice grinder or mortar and pestle.
- Whisk all-purpose flour, coarse (or Kosher) salt, baking powder and baking soda in a medium bowl and set aside.
- Vigorously whisk eggs and granulated sugar in a large bowl. After one minute the mixture will be pale yellow and frothy.
- Whisk in whole-milk yogurt, the ground Organic Masala Chai tea and vanilla extract.
- Gradually stream in vegetable oil while continuing to whisk.
- Add flour mixture and whisk to combine.
- Pour mixture into greased loaf pan, gently tapping pan against surface to eliminate air bubbles.
- Sprinkle top with raw sugar.
- Bake for one hour, or until a skewer inserted into the centre comes out clean.
- Let loaf cool 15-minutes in pan, placed onto a wire rack.
- Gently lift out of pan using parchment overhangs and transfer to a wire rack to cool.
This cake works equally well with other blended, or scented teas. Imagine how it would taste using Cream of Earl Grey or an Organic Peach Apricot. How about a Vanilla Almond Rooibos? Just make sure your gym membership is up to date ;)