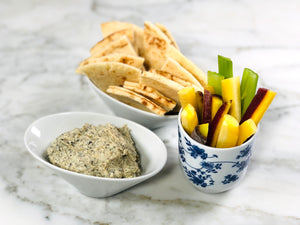 Organic Lapsang Souchong Tea and Hummus Dip
Lapsang Souchong is a black tea from Fujian province in China, characterized by an aroma that conjures a campfire in a cup. It was originally created when the Chinese army moved through the Fujian area right during the tea harvest, causing a delay. To avoid crop spoilage farmers ramped up the leaf processing by drying the tea leaves over pine embers. The rest is delicious history. 
We've come up with a dip that pairs Organic Lapsang Souchong tea with hummus. Takes next to no time to pull it together, and is perfect with warmed naan or pita and freshly cut raw vegetables. Trust us, once you start dipping you won't want to stop!
Ingredients:
8 oz (250 mL) regular hummus
2 tsp ground Organic Lapsang Souchong tea leaves
dash of Korean red pepper powder or cayenne pepper (optional)
Method:
grind Organic Lapsang Souchong tea leaves using a spice or coffee grinder. You can also use a mortar and pestle; it'll just take a little longer
add hummus to a bowl, and then add ground Lapsang Souchong tea leaves. Mix until incorporated.
add an optional dash of Korean Red Pepper powder or cayenne pepper to taste, and give it another quick mix.
serve with warmed naan or pita and fresh raw vegetables of your choice.
Lapsang Souchong not only makes an excellent cup of tea or dip, but it can be used to flavour soups and stews or as a rub on meat or fish. It's a very healthy, non-chemical substitute in virtually any recipe that calls for liquid smoke. You might want to grind a few more teaspoonfuls than you need and keep the rest in the fridge or cupboard in case of a dip emergency ;)