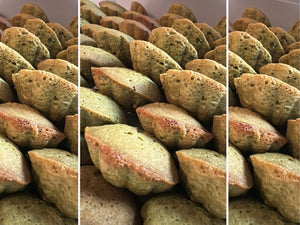 Making Matcha Madeleines
The delightful madeleine and tea were made for each other. These small, shell-shaped sponge cakes are said to have been created in northeastern France in the mid-1800's. French writer Marcel Proust catapulted madeleines to fame, saying that one taste of a madeleine dipped in tea reminded him of his childhood. Proust went on to remark how these random tastes and aromas we all experience can be as vivid as the original moment. How true! 

It takes surprisingly few ingredients to create a batch of lovely madeleines. It's the process that demands your attention. It's easy, just follow the steps and you'll be fine. It may take a few batches to achieve pro status, but it will be worth it.
 
Favoured madeleines are just as popular as original. The most common being chocolate and lemon. But we're taking it a step further with Matcha Madeleines. Blink Tea friend Chef Romain Avril has perfected the balance of matcha's umami nature with the delicate sweetness of the madeleine. It's a recipe we hope you'll come back to again and again.
INGREDIENTS: (Makes 24 Madeleines)
Batter:
- ½ cup unsalted butter + ¼ cup to coat silicone or metal madeleine pan
- ⅔ cup granulated sugar
- 1 cup cake flour (all-purpose flour also works)
- 2 tbsp all-purpose flour to dust metal madeleine pans
- ¼ tsp kosher salt
- 1 tsp baking powder
- 1 tbsp Blink Tea Matcha Uji Ceremonial Grade
- 2 large eggs at room temperature
- 1 tbsp whole milk at room temperature
 
Madeleine Dusting:
1 tbsp confectioners' sugar
1 tsp Blink Tea Matcha Uji Ceremonial Grade 
Preparing the Batter:
- Melt butter in a small saucepan over medium low heat, being careful to not let the butter turn brown. Once melted completely, let butter cool to room temperature.
- In a large bowl, sift flour, salt, baking powder, and matcha. Whisk to combine.
- In a separate bowl, whisk together eggs, sugar and milk until pale and ribbon-like.
- Stir egg mixture into the flour mixture until just combined.
- Add half of the cooled melted butter and blend until well incorporated.
- Add remaining butter and mix until just blended. Do not overmix as dough will become too elastic.
- Cover bowl with plastic wrap and refrigerate for 3 hours or overnight if you have time. (Hint: you can make this batter ahead of time and freeze in an airtight container for up to 2 weeks)
To Bake:
- Centre a rack in the oven and preheat the oven to 375°F (190°C).
- Melt ¼ cup butter and brush interior of madeleine molds. If using metal madeleine pans, also dust with flour.
- Fill each madeleine mold with one heaping tbsp of the batter. 
- Bake for 11-13 minutes, or until the madeleines' edges are slightly browned and the tops spring back when touched.
- Remove pan from the oven and let cool for three minutes. Using a fork, gently release madeleines from their molds and transfer onto a cooling rack.
- Dust with matcha and confectioners' sugar as you like.
Bon appétit!