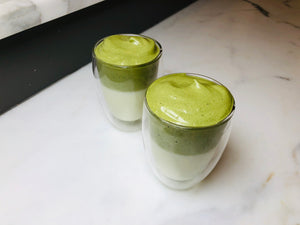 How to Make a Matcha Dalgona
Dalgona got its start as a coffee-flavoured toffee, sold as a street treat in South Korea. Someone came up with the brilliant idea to turn it a into frothy, creamy beverage using instant coffee and it took social media by storm. Then, someone else leveled this treat up even further by using Ceremonial Grade Matcha instead of coffee. Think of Dalgona as an upside-down latte, only sweeter and absolutely luscious. 
Ingredients for Matcha Dalgona: (for one drink)
¼ cup sugar
¼ cup water
One egg white
1 tsp Ceremonial Grade Matcha plus ¼ tsp extra Matcha for dusting
4 ounces (125mL) milk (any type will do, dairy, almond, oat etc)
Ice – optional 
Method for making a Matcha Dalgona:
Heat sugar and water in saucepan over medium heat without stirring until sugar dissolves. This is the same recipe for simple syrup that can be used in many cocktails, cold brew tea or any cold beverage.
Beat one egg white using a mixer or whisk until it's fluffy and glossy. Be patient as this takes a few minutes.
Drizzle the sugar and water mixture (simple syrup) slowly into the beaten egg white while continuing to mix or whisk. You're looking for a glossy consistency.
Add one teaspoon of Ceremonial Grade Matcha to mixture and mix or whisk until fully incorporated.
To assemble drink, pour milk into glass and add ice, if desired. Dollop whipped Matcha mixture on top of milk. Dust with extra Matcha if desired.
Dalgona is enjoyed best with a nice thick straw, or you can use a spoon to give it a blend. You're welcome!