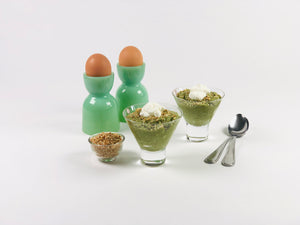 Matcha Chia Breakfast Pudding
Show of hands who's bored with their breakfast routine? Matcha Chia Breakfast Pudding is an alternative that is easy to make and packs a ton of nutrition. It blends Matcha Uji Ceremonial Grade and chia seeds into a treat that's delightful on the palate. The umami from the matcha, the gelatinous crunch from the chia seeds and added coconut offer a rich, satisfying taste that just works.
 
Ceremonial grade matcha can have up to 60 times the antioxidants of spinach. And Blink Tea's Matcha Uji Ceremonial Grade goes that extra mile. The grower, located in Japan's Uji region pipes in Mozart over the tea plants before harvest to ensure the plants, and resulting matcha, are also full of happiness and joy.
 
Chia seeds have remarkably high levels of omega-3 essential fatty acids. They're high in fibre and are a source of protein. Like matcha, chia seeds are high in antioxidants. While this recipe may be aimed at breakfast, we wouldn't be surprised if you enjoyed it later in the day too! 
Nutritious and Healthy!
Ingredients: for two servings
- ½ cup chia seeds
- 1½ cups almond milk – we used a mid-range almond milk
- 1 cup full-fat coconut milk: 9 – 15% fat
- 2 tsp Matcha Uji Ceremonial Grade
- 1 tsp vanilla extract
- 4 tbsp maple syrup
- dollop of plain Greek yogurt (optional)
- sprinkling of toasted sesame seeds (optional)
 
Instructions:
- Whisk all ingredients except yogurt and sesame seeds in a bowl until well combined.
- Refrigerate mixture overnight.
- As a serving option, sprinkle with toasted sesame seeds and a teaspoon of yogurt.