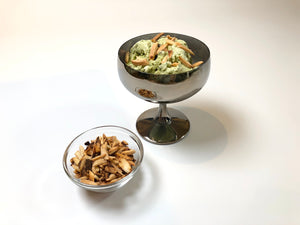 Matcha Almond Ice Cream
I'm the last person to know that green tea ice cream served in restaurants is made using Matcha. We've dialled everything up considerably, using Ceremonial Grade Matcha and rich, creamy vanilla ice cream. Toasted almonds and a twist of black pepper add crunch & a bit of bite. Careful not to get hooked! 
Matcha Almond Ice Cream Ingredients – for one 8 ounce serving
- 8 oz (250mL) high fat vanilla ice cream - ie Haagen Daz
- ½ tsp Matcha Uji Ceremonial Grade
- 1 tbsp toasted almond pieces (option: white chocolate chips)
- 1 one or two cracks of whole black pepper
Note: It's best to use an ice cream with high fat content, which doesn't separate when re-frozen. 
How to make Matcha Almond Ice Cream:
- as ice cream melts a bit, toast almond pieces until they start to brown.
- add ice cream to bowl, add in Ceremonial Grade Matcha and mix until well-incorporated.
- blend toasted almond pieces and optional crack of black pepper into Matcha ice cream mixture. (Option: if you have nut allergies try white chocolate chips instead of the almonds – just as yum).
- place back into freezer until ice cream hardens.
- garnish with vanilla or cinnamon cookie if you dare.