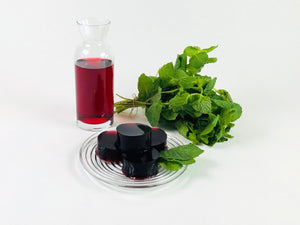 Healthy & Tasty Tea Jello
During a recent hospital stay I was on a liquid diet, making Jello the most solid food on my menu. Every meal had Jello – lemon, lime, strawberry if I was lucky. It was the first time I ate Jello in decades. And I vowed it would be my last, until…
 
The curious type, I wondered how I could up Jello's game using tea. Turns out it's easy and darned delicious. You can create Jello using any tea or herbal. And you can make your Jello healthier by choosing the type of gelatin or sweetener you use. As a rule, Jello is low in fat, so you can gobble the wobble pretty much to your heart's content!
 
Here's a recipe I created using Organic Elderberry Hibiscus, an herbal tea. If you're using actual tea like Cream of Earl Grey, an Organic Peach Apricot or Sakura Rose, please read the recipe note* below to make sure you get a Jello that's just as yum. 
You Had me at Jello

Ingredients:
- 3 ½ cups water
- 1/2 cup maple syrup
- 1-ounce unflavoured gelatin (we used grass-fed, but any gelatin will do)
- 8 teaspoons loose-leaf tea (or 8 sachets)
  
Instructions:
- Add maple syrup to water and stir to blend.
- Pour off one cup of this mixture and set aside.
- Add 3 cups of water & maple syrup mixture and tea to pot and bring to a boil.
- Once this mixture reaches a rolling boil, reduce heat and simmer for 15 minutes.
- *Note – if using tea instead of an herbal, double the amount of tea used and halve the steep time. Steeping any tea for 15 minutes will make it bitter.
- With one minute left to steep, add gelatin to the one cup of water & maple syrup mixture that was set aside. Whisk until well incorporated and pour into a large bowl.
- Strain tea leaves or remove tea sachets from steeped mixture and pour this liquid into bowl with gelatin mixture. Whisk until well incorporated.
- Pour into mold of choice and chill for at least three hours. Cut into squares or create shapes with cookie cutters, serve and enjoy!