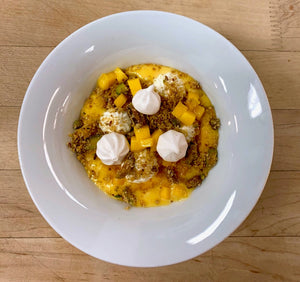 Blink Tea Partner Spotlight - Scaramouche Restaurant, Pasta Bar & Grill
Scaramouche is one of those restaurants that when you arrive, you know you're in for a transcendent dining experience. It's sleek, sophisticated and welcoming, perched atop a hill with a commanding view of downtown Toronto's twinkling lights. In its 35-plus year history, Scaramouche Restaurant and it's more casual Pasta Bar & Grill has ranked consistently among Canada's top restaurants and has devotees worldwide. 
Owner and executive chef Keith Froggett and Chef de Cuisine Carolyn Reid lead a team that celebrates the best ingredients, prepared and presented with integrity. From the finest oysters to chestnut ravioli, grass-fed filet mignon to duck confit and their anticipated annual Lobster'licious event the kitchen focusses on the art of building flavours through classical technique. It's this respectful flair for ingredients that draws diners again and again.
 
We managed to wrangle from Scaramouche a recipe for one of their famous desserts. The Passionfruit Curd with Pistachio Crumble, Mango and Meringues has a creamy, fruity tang with a satisfying and delicate crunch. This amazing dessert pairs up perfectly with a robust organic assam or golden green tea. 
How to Make Passionfruit Curd with Pistachio Crumble, Mango and Meringues
Makes approximately 8 servings.
Passionfruit Curd
Ingredients:
8 large egg yolks – set egg whites aside in another bowl
½ cup (4 oz) passionfruit juice
1 cup granulated sugar
pinch of salt
10 tbsp unsalted butter, cut into tablespoon-sized pieces
 
Method:
- Combine egg yolks, passionfruit juice and sugar in heavy bottomed saucepan.
- Place on medium heat and stirring constantly bring the mixture up to 160F, until thick enough to coat the back of a spoon.
- Immediately remove from heat and stir in butter pieces a couple at a time until all are incorporated and the butter has melted into the passionfruit liquid.
- Pour into suitable containers, like ramekins, and chill until set. 
Pistachio Crumble
Ingredients:
145 g all-purpose flour
125 g cold unsalted butter, cut in small pieces
75g granulated sugar
75g ground almonds
35g pistachio paste
100g coarsely chopped pistachios
½ tsp salt
Method:
- Place all ingredients in a stand mixer with the paddle attachment.
- Turn on mixer on low speed and mix until everything comes together in a loose crumble with no visible chunks of butter.
- Spread out on a baking tray and bake at 325F until golden and crispy, approximately 10 minutes. 
Meringues
Ingredients: 
130 g egg whites
130 g granulated sugar
110 g icing sugar
Method:
- Preheat oven to 225F
- Whip whites at medium speed in a stand mixer until doubled in volume.
- Stream in sugar and continue to whip for another 5 minutes.
- Stream in icing sugar and whisk for another 5 minutes.
- Pipe mixture onto parchment paper in little 'kisses'.
- Bake at 225F approximately 15 minutes until crispy.
This may take more or less time depending on size of the kisses, but you are looking for a crispy, white meringue. 
To Finish:
Ingredients:
Diced mango
Plain unsweetened whipped cream
Top the curd with a sprinkle of the mango, some crumble and dot with a couple of meringues and a few dots of the cream.