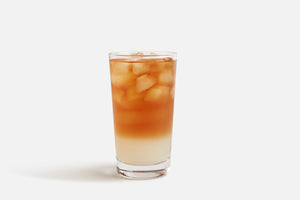 How to Make a Refreshing Arnold Palmer
If there was ever a more refreshing pairing it's tea and lemonade – the two main ingredients that tee up the Arnold Palmer. Named after the famous golfer, we've given ours a couple of twists that make it a hole in one.
Our Arnie uses cold brew Organic Assam rather than English Breakfast tea for a rounder, fuller taste. And, we've included a cheat that gets it past your lips faster. 
How to make the Blink Tea Arnold Palmer
This recipe has a few steps and it's worth it!
Ingredients (makes 4 servings)
2 cups (500mL) Organic Assam cold brew tea (recipe here)
Lemonade:
1 ¾ cups (430mL) water
1/3 cup (80mL) lemon (juice from 1 large lemon) 
2 ½ (40mL) tablespoons sugar
ice
orange slices
mint sprigs
Directions to make an Arnold Palmer with a twist:
Make Assam cold brew tea.
Make Lemonade.
Make simple syrup by combining the sugar and 1/3 cup of water. Bring to the boil making sure sugar is completely dissolved. Remove from heat and cool.
Squeeze 1/3-cup fresh lemon juice.
Combine lemon juice, simple syrup and 1 ¼ cup water to make lemonade.
Twist: Use good quality ready-made sweetened lemonade instead of making from scratch.
Assemble the Arnold Palmer:
Fill highball glass or large tumbler 1/3 full of ice
Pour 1/3 lemonade over the ice
Pour cold-brewed tea over lemonade. To ensure lemonade and tea layering, pour in tea over back of large spoon.
Garnish with orange slice or mint sprigs. 
Option: if you wish to make a "John Daly", named after another famous golfer, add a splash of vodka.