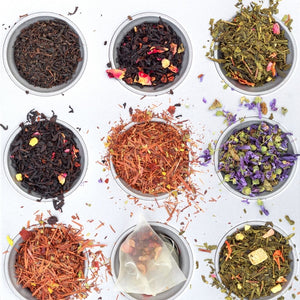 2021 Tea Trends to Look Out For
2020 brought the rise of the Tik Tok famous Dalgona coffee, which quickly moved into the tea world with Dalgona Matcha. We loved it so much we tried it with our Turmeric Latte Blend! Let's see what's in store for tea drinkers in 2021.
Every year brings updated fashion trends, new food trends and even a Pantone colour of the year. There's always something new and inventive to look forward to, and tea is no exception. From use of botanicals to convenience and an increasing awareness of health & wellness options, we've rounded up some of the tea trends to keep an eye on for 2021.
The team at Nutritional Outlook have predicted that the heightened yearning for comforting, sweet flavours from 2020 will carry over into 2021, including the warm notes of maple, vanilla and butterscotch. 
With travel not quite on the horizon for most people, globally-inspired flavours that can be made at home are on the rise. Asia-inspired flavours like yuzu, calamansi and tamarind, fruity options influenced by Latin America and citrus tastes like orange blossom, figs and dates from the Mediterranean will start popping up in consumer goods.
When it comes to tea, the popularity of green, white and black tea will continue as consumers gravitate to natural products that have health benefits.
Tea is always popular. "Black, green, and mate tea, as well as fruit and herbal infusions like rooibos and ginger, have an authentic and convincing taste," he says. "These flavors are among the top-10 most sought-after flavors in the beer and spirit mix segment, or like mint they are among the fastest-growing flavors."
3 teas we recommend:
According to the Martin Bauer Group, teas with health benefits and trendy botanicals are two areas to keep an eye on. 
Teas that not only taste amazing but also provide wellness benefits including digestive health, immune support, and promote relaxation have been and will continue to be top of mind for consumers.
"Another trend emerging for 2021 is the use of new, trendy botanicals." 
The use of herbs and superfoods in tea blends is not new, however this year we can look forward to seeing more of this as consumers become aware of plants & herbs used around the world. Keep an eye out for more tea blends with turmeric, moringa, rooibos, acai berries and more.
3 teas we recommend:
The team at TeaSmart are anticipating a few trends that we can expect for 2021: calming teas & herbal blends, fun & colourful teas and dessert flavours. 
3 teas we recommend:
Teas and herbals are an integral part of 2021 food and beverage trends. They provide an easy way to create comfort with flavours and experiences for everyone. Teas is healthy and hydrating, with an authenticity that stretches back over 5000 years and is here to stay.