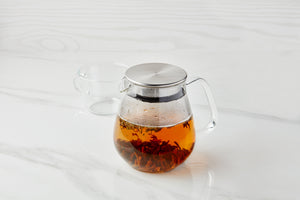 Welcome to the Blink Tea Fall Launch!
As regular Blink Tea Blog readers, we're giving you an inside peek at new accessories we've just launched at Blink Tea. They have go-with-anything style, are easy care and work without question. These great accessories follow last week's launch of new teas. Let's take a look! 
Create perfect tea moments with Kinto UNITEA One-Touch Teapots. They blend seamlessly into any style and come in large and small. Heat resistant glass and a built-in stainless-steel strainer lets you to watch your favourite tea steep.
Step up your steeping game with the FORLIFE Folding Handle Tea Infuser. The incredibly sturdy infuser uses a laser precision mesh basket to allow tea to circulate freely. Use it anywhere as it comes with its own carrying case and drip tray!
At last, a cold brew bottle that goes from fridge to table with style. The Hario Filter-In Cold Brew Bottle is so easy: drop in tea and water, pop in fridge for as long as you want and that's it. The built-in filter lets you serve your best cold brew with ease! 
The Blink Tea Canister stores loose-leaf and pyramid teas and looks great in any kitchen. The canister is airtight and food safe, and stores about 35 pyramids or 250g of loose-leaf tea. We'll even pre-label the tea canister for you.  
These new accessories compliment our amazing Kinto Travel Tumblers, Blink Tea Filters and other accessories we've chosen with a keen eye. We hope you like, and we're here for any questions!