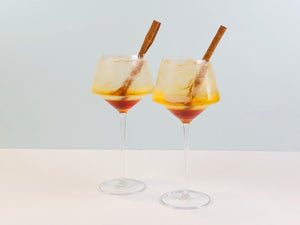 Making a Vanilla Spritz
Did you read that right? Yes, it's a Vanilla Spritz and it takes the oh-so-common aperitif in a refreshingly random direction. This amazing spritzer is made using Vanilla Almond Rooibos tea simple syrup as its base. The vanilla and almond add an Italianesque amaretto-like appeal to the drink, making it perfect before dinner or for an afternoon lolling with friends in a sunny backyard.
 
Rooibos, or redbush tea comes from a broom-like member of the Fabaceae plant family grown in South Africa's mountainous Cederberg region. The leaves of the redbush are used to make rooibos tea, which is technically a tisane, or herbal. Rooibos is known for its smooth and woody nature, is rich in antioxidants and has no caffeine. Even as a tea, it's virtually guilt-free!
Creating a simple syrup with the tea does away with the need to add sweetener to the drink. And you can use any extra Vanilla Almond Rooibos simple syrup, like we think you'll have some, to flavour sparkling water or even, dare we say it, coffee. However, used in the Vanilla Spritz I mean, just close your eyes and imagine a Venetian café at sunset. Now imagine you flew first class. Get the picture?  
 Vanilla Almond Rooibos Simple Syrup & Cinnamon Stick Garnish

A few tips:
- our tea simple syrup recipe is fast and easy, and extracts the most flavour from any tea
- use tea filters to create simple syrup using loose-leaf tea – it's much less of a mess
- you can replace the vodka with more sparkling water (why, oh why)
- we found extra-long cinnamon sticks at a bulk store and snapped them to the length we wanted
- option: top this drink with a cold foam – WOW. 
 It's So Easy!
Ingredients: 8 oz drink
- 2 tsp Vanilla Almond Rooibos tea simple syrup
- 1 ½ ounces vodka  
- sparkling water
- ice
- cinnamon stick for garnish
 
Directions:
- Fill glass with ice
- Add 2 ounces Vanilla Almond Rooibos simple syrup (simple syrup recipe below)
- Add vodka
- Top with sparkling water
- Garnish with cinnamon stick and enjoy!
 
Simple Syrup (for one cup)
- in a saucepan, steep 4 teaspoons of tea at the temperature suggested for the tea for five minutes
- remove and discard tea (hint – if using loose-leaf tea, use tea filters for less mess)
- over medium – high heat, add one cup of granulated sugar
- stir sugar into tea until completely dissolved
- remove from heat and allow to cool before popping into a squeeze bottle
- simple syrup should last a good month refrigerated