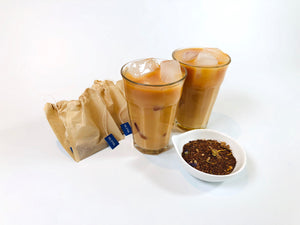 Vanilla Almond Rooibos Iced Latte
Talk about fresh and delicious! The Vanilla Almond Rooibos iced latte has an amaretto and marzipan finish that's a delight on warm or cool days. Rooibos comes from the South African bush of the same name, it's antioxidant rich and caffeine free. This latte takes seconds to make, and tastes like amaretto liqueur without the hangover. You can sweeten if you like, or just let this exotic latte take you away!

How to Make a Vanilla Almond Rooibos Latte

Ingredients (for one drink)
- ¾ cup water
- 2 tsp Vanilla Almond Rooibos tea
- 1 tsp honey or agave syrup to taste (optional)
- ½ cup ice
- ¼ cup milk (dairy or plant-based)
Method:
- Steep Vanilla Almond Rooibos for 5-minutes, as you want the tea nice and strong. Cold brewed teas are perfect for iced lattes too.
- Remove and discard tea bags.
- Let tea cool for about five minutes. If you wish to speed things up, place tea and ice cubes into a cocktail shaker and give it a good shake, then pour into serving glass and add a bit more ice.
- Add honey (or agave) and stir until dissolved.
- Add milk and stir until combined.