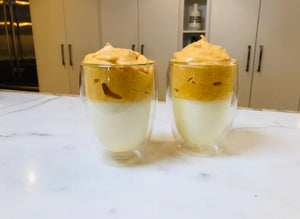 Learn how to make a Turmeric Dalgona
The Dalgona got its start as a coffee-flavoured toffee, sold as a street treat in South Korea. Someone came up with the brilliant idea to turn it into a frothy, creamy beverage using instant coffee. We're making it ultra-healthy by using Organic Turmeric Gold to leverage the high anti-inflammatory and antioxidant benefits of turmeric, ginger, cinnamon and black pepper. Think it looks good? It tastes even better! 
 How to make a Turmeric Dalgona
Ingredients: (for one drink)
¼ cup sugar
¼ cup water
One egg white
1 tsp Organic Turmeric Gold
4 ounces (125mL) milk (dairy or plant-based will do)
Ice – optional
Method: 
Heat sugar and water in saucepan over medium heat without stirring until sugar dissolves. This is the same recipe for simple syrup used in many cocktails.
Beat one egg white using a mixer or whisk until it's fluffy and glossy. Be patient as this takes a few minutes.   
Drizzle the sugar and water mixture, or simple syrup, slowly into the beaten egg white while continuing to mix or whisk. You're looking for a glossy consistency.
Add one teaspoon of Organic Turmeric Gold to mixture and mix or whisk until fully incorporated.
To assemble drink, pour milk into glass and add ice, if desired. Dollop Turmeric mixture on top of milk.
Turmeric Dalgona is best enjoyed using a nice thick straw, or you can use a spoon to give it a thorough blend.