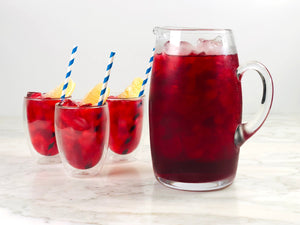 The Absolutely Most Perfect Organic Elderberry Hibiscus Iced Tea
There's just something about Organic Elderberry Hibiscus tea that I adore. A good quality blend offers a rich balance of tart and sweet, not to mention other benefits. Elderberry is jam-packed with antioxidants, can boost your immune system and tame inflammation. Hibiscus is bursting with vitamin C and other antioxidants and has been said to lower bad cholesterol and blood pressure. These attributes and its dark ruby red colour; it's no wonder Elderberry Hibiscus tea is something you drink with your eyes first! 
Organic Elderberry Hibiscus Iced Tea
Organic Elderberry Hibiscus is an herbal tea that's incredibly versatile. You can enjoy it hot or cold. It works in smoothies. A simple syrup made from Elderberry Hibiscus tea gives a taste and colour lift to sparkling or tonic water. Add a lemon wedge and maybe a splash of vodka and you've got a refreshing cocktail. If you're setting up your own little tea collection, Organic Elderberry Hibiscus is a must! 
Okay, now to the reason why we're here. We've got a simple iced tea recipe using Elderberry Hibiscus. It's good on its own, or as the base for other drinks you might come up with. Watch for a Hint in the recipe that applies to any tea you might be steeping to enjoy hot or cold. It'll make your experience even better!   
Basic Iced Tea: (10 servings)
Ingredients:
Method:  
In a small saucepan bring 2 cups of water to a gentle boil. Add the tea, remove saucepan from heat and let steep for 15 minutes. It's a lot of steeping, but we're accounting for dilution when the tea is served over ice.
Remove or strain out the tea leaves and let the tea cool to room temperature. (Hint - do not squeeze the tea or tea bags, as this releases bitter tannins into your iced or hot tea)
Pour cooled tea into your favourite pitcher and add 8 cups of cold water. Give it a stir and pop the tea into the fridge until cold.
Serve over ice with sweetener if desired, garnished with a lemon or orange wedge.