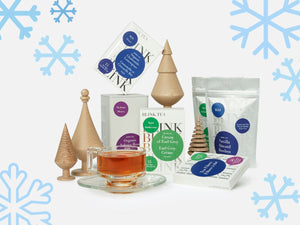 The Blink Tea Holiday Gift Guide
Ironically, tea is one of the few treats in life that's meant to remove stress. So, buying a tea gift should not be an anxiety-ridden experience, right? To help, we've created some holiday gift suggestions for the tea lover in your life. Deep breath, and right this way… 
Flavourful Favourites 
A few packages of someone's favourite teas make a healthy, hydrating holiday gift. How about a favourite and a new tea that you think the recipient will enjoy? Do they like loose-leaf or single-serve pyramid teas? Many online shops like Blink Tea allow you to pay and then have it shipped to the recipient right at checkout. We'll even include a hand-written note! How easy is that? 
 At Your Service
Teapots and cold brewers are a staple for anyone who enjoys tea. Kinto UNITEA teapots come in small and large, and you can watch the tea steep right in front of your eyes. The teapot lid has a built-in strainer, so no need for tea bags or an infuser. They're easy to clean and work with anyone's personal style. 
The Hario Filter-in Cold Brew Bottle shares a similar form-follows-function simplicity. Drop in your favourite tea leaves or even sachets for that matter. Add water, pop into the fridge and when the tea's done infusing, take this beauty straight to the table for service. The lid has a built-in strainer if you're using loose leaf, and it's easy to clean.   
Mindful Brewing
The right accessories ensure the best cup of tea every time, and they don't cost a bomb. A tea or matcha scoop measures the right amount of tea. A whisk can whip up a foamy matcha or latte blend in seconds. A box or two of compostable tea filters are a lifesaver for anyone who's always running out. Maybe a sturdy, stainless tea infuser with its own drip dish, or one that can travel. Low-cost gift ideas, with many happy returns!
Sipping Pretty
Here's where you can think outside of the box. Yunomi are traditional Japanese teacups without handles that have been used for centuries. To this day many yunomi teacups are handcrafted, using new or centuries old designs and processes. They make for an authentic, and very pretty way to serve any tea or herbal. And you didn't hear it from us, a yunomi can also make a gorgeous bud vase. Two gifts in one! 
Travel Tumbler
Everyone loves a good travel tumbler. The Kinto Travel Tumbler is one of the best you can find. It keeps any liquid: tea, coffee, water, juice piping hot or icy cold for at least 6 hours. They do not leak, are lovely to look at, feel good in your hand and are easy to care for. Almost better than a boyfriend or another cat. 
Candles
Speaking of cats, nothing pairs even better with your favourite tea than a great candle. Ours come from Flambette, a little Quebec based maker company that has a nose for heavenly scents. The candles are soy-based, with a wooden wick that crackles. The aromas are not cloying or overpowering. Rather they're delicate and deliciously transcendent. You, I mean your recipient, will think they're just beyond.    
Have you exhaled yet?! We've gone to great lengths to choose teas and accessories that look great, work well and are easy to take care of. Actually, we're kind of selfish. We choose products that we love, knowing that you'll love them just as much. Questions on any of our products, we're here for you. And,  Happy Holidays!