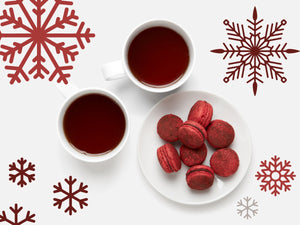 The Blink Tea Holiday Gift Guide
Holiday season is upon us, a bit earlier this year. We've come up with a bunch of ways to make gift giving much less stressful. You can create a suite of teas as a gift pack. Teas can be combined with accessories, like a teapot, filters or even a travel tumbler. You can present your Blink Tea gift in person or have us send it to whomever you want. We'll even include a gift note. We're making it easy to shop early. 
When we created Blink Tea, we wanted to give the tea world a bit of a twist. We curate our artisanal teas by Bold, Medium and Mild, each with a wide range of taste experiences. How about choosing one of each, so that the recipient has teas that can enjoy throughout their day? An option is to curate a couple of their favourites plus a new tea you think they'll love. 
Our most popular teas and herbals are also available in single-serve pyramid format. A lot of care has gone into the creation of Blink Tea pyramids. Whether Cream of Earl Grey, Organic Sakura Rose, Organic Moringa Mint or others, they are made from a plant-based material and are fully biodegradable – good for you and for the planet. Same great tea for those who love tea as much as they love convenience. 
Having trouble committing? Want to entice someone new to the world of tea? Blink Tea Sample Packs are the perfect solution. The sample packs come in Bold, Medium and Mild. We even offer a Latte Blend pack that includes our amazing Ceremonial Grade Matcha. Ticking off your gift list has never been easier!
The Kinto UNITEA One-Touch Teapot is easy to use and blends seamlessly into any style. We offer this fab teapot in large and small. The Hario Filter-In Cold Brew Bottle is just as easy – pop in your favourite tea and let it steep. This cold brew bottle goes from the fridge to the table with style! We love that with either the teapot or cold brew bottle, you get to watch your favourite tea steep right in front of your eyes. 
Believe me, we tested a ton of options before deciding to offer the Kinto Travel Tumbler. What we love is that they deliver on their promise, to keep tea hot or cold for at least six hours. They don't leak and can be used for tea, coffee or your favourite cold drink. They feel good in the hand and have amazing, understated style. Choose from large or small in go-with-anything White, Khaki or Black.  
It's all in the accessories, right? At Blink Tea we've got some great options. Our tea and matcha scoops are stainless steel and easy to care for. Blink Tea Filters are compostable. The FORLIFE folding handle tea infuser is sturdy and drops into any bag. Matcha whisks and Blink Tea Canisters are also great to give on their own or to include with some amazing tea.
No matter how or what you choose as a gift, it's the thought that counts. We've worked to streamline the process so that you can concentrate on creating gifts that offer great tastes wrapped up in a deliciously mindful moment. Tantalizing flavours and accessories that are delightfully no-fail, whether for family, friends or for yourself!