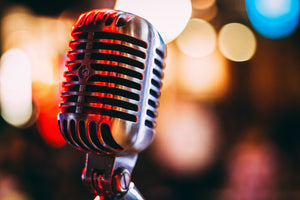 Tea and Your Voice
At about the same time that Blink Tea launched a friend invited me to a rock musical. I was absolutely wowed by the firepower of the voices on stage. After the concert we stopped for a night cap and to our delight, the cast and crew decided to do the same thing. It gave me a chance to learn if there are any go-to teas or herbals for people who make a living by song, speech or podcast.   
My informal poll led me to an important key word: hydration. Besides water a favourite tends to be Chamomile (left), which is hydrating and gentle on the throat and vocal chords. Chamomile tea has the added benefit of being calming, which can take the edge off pre-performance jitters or help with winding down. 
 
Peppermint (right) is another popular herbal for voice work as it helps to soothe a raspy or hoarse throat. Thanks to its anti-inflammatory qualities, peppermint can also help reduce swelling in sinuses. A side benefit is that peppermint tea can aid with indigestion if you're that kind of nervous. Even better, peppermint teas are energizing.
Rooibos, made from the African red bush, is a more exotic caffeine-free herbal option for those using their voice more than usual. Rooibos is packed with antioxidants and possesses anti-inflammatory benefits. Like other herbals, rooibos teas can help fight against infection and counteract hoarseness. Plus, it's a nice option to Chamomile and Peppermint.
Conventional wisdom suggests sidestepping caffeine or milk before a singing performance or major speaking event. Caffeine can have a drying effect on the vocal chords, while milk can produce a lot of, ahem, phlegm. Save your favourite black, green or oolong tea for when you're writing some awesome lyrics or memorizing your inspiring speech.