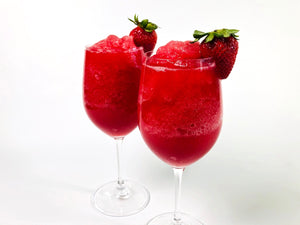 Tips to Enjoy Tea in Summer
Tea was first discovered by a Buddhist monk, blissfully meditating in a garden 5000-years ago. The centuries since have seen teas refined and redefined to keep us captivated by this healthy beverage, second only to water in daily consumption around the world. Not only is tea healthy it's also hydrating, especially important during the warmer months.
 
To that end we have come up with easy tips and tricks to keep tea top of mind as the temperature climbs. These are basic ideas from which you can invent your own creations, with or without alcohol. The golden rule is to use high quality teas and herbals for the best results. If you come up with something that is truly divine, please share it with us!
Iced Tea: add an extra teaspoon of loose-leaf or tea bag for every four cups of iced tea you are making to account for ice dilution. Do not squeeze tea or tea bags as you remove them, as it releases bitter tannins into your iced tea. 
Cold Brew: add one teaspoon of loose-leaf tea or teabag per cup into a carafe and fill with water, place into fridge for 6 – 8 hours or overnight. Add an extra teaspoon of tea of tea bag for every four cups you're making. Cold brewing traps bitter tannins in the tea leaves, and offers a sweeter, more authentic taste than iced tea.  
Iced Lattes: the perfect option for cold brew or iced tea. Drop some ice cubes into a glass, add tea, sweeten if you wish and add any type of milk you like. Try using a liquid sweetener as it disperses easier in cold liquid. 
Tea Ice Cubes: avoid diluting your favourite cold tea drink, by making the ice cubes out of tea too. Steep the tea double strength, so that it continues to add to your drink's flavour as you sip away. Use tea ice cubes in other drinks to give them show stopping colour and taste.
Smoothies: tea makes a tasty, calorie-free replacement for juices and milks. Experiment to get the consistency right, but that's part of the fun. Another option is to add a good quality tea latte blend to your go-to recipe for a new taste direction.
Simple Syrups: for one cup of syrup, steep 4 teaspoons or sachets of tea in one cup of water at the suggested temperature for five minutes. Remove tea, add one cup of sugar and heat until dissolved. Let cool and place into a squeeze bottle. Tea simple syrups add personality to cocktails and non-alcoholic drinks.
Cold Froths: as easy to make as froths for hot drinks. The only difference is using skim milk instead of higher fat milks. Dollop to your heart's content onto any cold tea or herbal. Silky froth adds a flavour twist to any tea. Try it once, and you'll be a convert!
Garnishes: there's no rule except to choose fruits and vegetables that complement the tea drink's flavour. Make citrus twists thin, avoiding as much pith as possible. Layer fruit slices in as you add ice to a glass for visual interest and to disperse flavour throughout the drink. 
Tea and Ice Cream: create a double strength tea brew or latte blend and pour over ice cream for a tea affogato. Add a splash of cooled Masala Chai or Cream of Earl Grey to a milk shake. Stir a teaspoon of Matcha into vanilla ice cream. How yummy can you get?
While this may appear to be a long list, it's the tip of the iceberg on how to get more from your tea during the warmer months of the year. Tea is incredibly versatile and forgiving, so play around and experiment. You never know when you might tumble upon the hit beverage of patio season. Great reason to keep your favourite teas front and centre all year round!