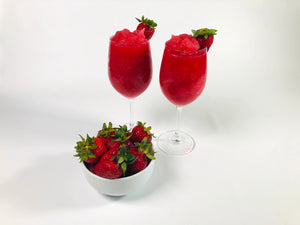 Strawberry Hibiscus Tea-Zay!
Meet the Tea-Zay, a slouchy slushie that uses tea instead of wine. Organic Elderberry Hibiscus tea, strawberries and a little vodka or gin spin up a frothy, popsicle red drink that's an exotic see-saw of tart and sweet. Mix up a batch for a sunny afternoon or a moody sunset.
Strawberry Hibiscus Tea-Zay Ingredients: (for 2 – 3 Tea-Zays)
- 2 cups Organic Elderberry Hibiscus Tea
- 1 cup fresh strawberries
- 1 tbsp honey (or sweetener of your choice)
- 2 ounces vodka or gin (leave this out to make a non-alcoholic Tea-Zay)
- 1 ½ cups ice 
 
How to make a Strawberry Hibiscus Tea-Zay:
- Steep Organic Elderberry Hibiscus tea and allow to cool. A cold brew tea works equally well for this drink.
- Add all ingredients to blender. Blend until thick and frothy. If not using alcohol add a few more strawberries.
- Add strawberry or orange slice for garnish.
Slush and Slouch away!