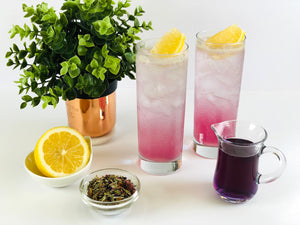 Making an Ultra Violet Collins
Have we got a cocktail for you! The Ultra Violet Collins is a refreshing, unique take on the traditional Collins cocktail. A simple syrup made using Blink Tea's new Ultra Violet herbal tea adds fruity flavour. Lemon juice turns the drink IG pink. It's a great cocktail to celebrate Valentine's Day, or any other occasion. 
Ultra Violet herbal tea
Ultra Violet is an herbal tea crafted from lemon, lemon verbena and lemongrass in a playful jumble with apple, hibiscus and raspberry. Butterfly pea flower joins the fun, turning this herbal tea a deep and rich violet when steeped. Ultra Violet is refreshingly zesty, and stunning whether sipped hot or cold. 
 Fruity and Fabulous!
Ingredients: (for 1 drink)
1 ½ oz gin
1 oz Ultra Violet simple syrup (recipe below)
1 oz fresh lemon juice
ice
lemon or orange wedge for garnish
Directions:
Shake gin, lemon juice and Ultra Violet simple syrup on ice.
Strain into a chilled Collins glass on fresh ice.
Garnish with a lemon or orange wedge.
Enjoy responsibly!