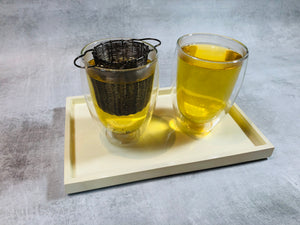 Welcome to Sencha Kyoto
In every sip of Blink Tea's newly-launched Sencha Kyoto tea lie refreshing hints of sea and salt air. It's crisp and clean, one of Japan's best-loved teas. Delicate, grassy sencha leaves are steamed rather than fired to stop oxidation, which gives Sencha Kyoto an arresting, emerald green appearance. 
Sencha Kyoto is full of the good stuff – antioxidants, catechins as well as beta-carotene, folic acid, vitamin C and potassium. It has a linen crisp, marine aroma and taste profile, characteristic to fine Japanese green teas. 
Sencha Kyoto has approximately 35mg of caffeine per cup. Added bonus - you can steep Sencha Kyoto leaves at least twice. Just add a minute for each new steep.