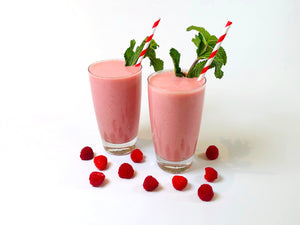 Raspberry Banana Green Tea Smoothie
Mix up your morning routine with a green tea smoothie!
We're all about saving time in the morning and doing it in a healthy way. Try using Organic Golden Green tea in your smoothie instead of milk or juice. You'll have a drink that's slightly fresher tasting and a bit lower in fat since the calorie-free green tea is subbing for the milk.
Raspberry Green Tea Ingredients (for one smoothie) 
½ cup ice
⅓ cup plain, non or low-fat Greek yogurt
1 cup chilled or cold brew green tea
1 cup fresh raspberries
1 large frozen banana
1 tablespoon agave syrup, honey or maple syrup
½ tsp vanilla extract
Method: 
Place all ingredients in a blender and blend until smooth.
Garnish with a sprig of mint if desired.
Take your green tea smoothie to go in a stylish Kinto Travel Tumbler!