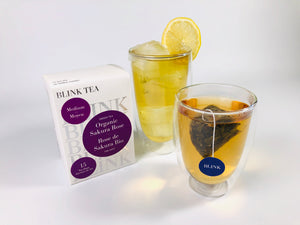 Organic Sakura Rose - A Complex and Delicious Tea
Organic Sakura Rose is a tea that is full of surprises. The blend comprises lightly-roasted Organic Chinese Sencha tea, infused with delicate rose and jasmine petals, topped off with hits of cherry and peach. As you sip away, you are continually surprised by its complexity of flavour. It's like a garden party happening on your palate!
You'd think that because Organic Sakura Rose is a floral blend that it would be cloying and sweet, when in fact the opposite is true. The lightly-roasted Sencha tea, the rose and jasmine petals kind of share centre-stage. This green tea blend has a robust, round flavour quality that appeals to everyone. 
Organic Sakura Rose steeps like any other green tea - 80˚ Celsius or 175˚ Fahrenheit for 1 - 3 minutes. And, you can steep the leaves a few times. We suggest adding a minute to each subsequent steep. 
This tea has 35 mg of caffeine per cup, which is fairly low. And, because it's green tea, Organic Sakura Rose has all the attributes that make it part of a healthy lifestyle: it's high in antioxidants, beta carotene, calcium and catechins - wrapped up nicely in a fragrant, floral experience. 
Did we mention that Organic Sakura Rose is versatile too? This is one tea that is incredible iced or as a cold brew. There's a freshness and a sweetness in a cold version of Organic Sakura Rose like no other. 
So, you might say we've done it again. Organic Sakura Rose is a very special tea, an experience that's delicious, full of complex flavour and totally versatile. It's a tea that suits any person and any mood!!