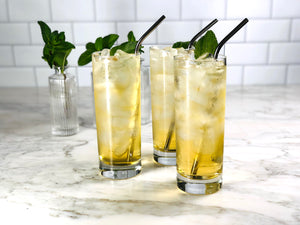 Organic Moringa Mint Apple Splash
For the launch of our Organic Moringa Mint tea, we've come up with a refreshing splash using Organic Moringa Mint tea and apple juice. Moringa is mega-nutritious and the leaves have been used for centuries for their medicinal properties, health and nutritional benefits. The moringa leaves also soften the sharpness of peppermint - the two tastes play well together. 
The real beauty of this recipe is that it's easy to make and incredibly versatile. You can play with the amounts to suit any taste, add sparkling water for a bit of fizz or try a variety of garnishes. And you didn't hear it here, but the Organic Moringa Mint Apple Splash is a natural for a splash of vodka. This drink is ready for some fun! 
Organic Moringa Mint Cold Brew
How to Make an Organic Moringa Mint Apple Splash
Ingredients (for 6 servings):
3 cups steeped and cooled Organic Moringa Mint tea
3 cups apple juice
liquid honey (optional)
ice
fresh mint sprigs
Method:
create a cold brew by steeping one teaspoon of Organic Moringa Mint tea per cup. IE, if you're making three cups of cold brew, use three teaspoons of tea
fill a highball glass with ice
fill glass half-way with Organic Moringa Mint cold brew tea
top with apple juice
if you'd like the drink a little sweeter, add a teaspoon of liquid honey 
garnish with mint sprig Organic Moringa Mint Cold Brew and Apple Juice
Because there are so few ingredients in this recipe, it almost begs for experimentation. If you make the cold brew a bit stronger, try topping off the drink with sparkling water or if you're feeling adventurous a splash of vodka.
Same goes for the garnish. Instead of mint sprigs try a wedge of orange, lime or even melon. You might wish to forgo garnishes altogether and drop in a few of your favourite berries. Make this splash the hit of any get together!