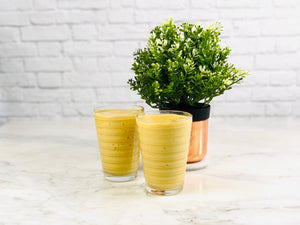 Organic Masala Chai Mango Smoothie
If you're looking for a smoothie that's a bit outside of the box, this is it! Double-steeped Organic Masala Chai tea adds a bit of unexpected and exotic pop to the creamy mango, banana and Greek yogurt. Not to mention the smoothie's sunny yellow colour, which can't help but brighten any morning! 
Ingredients: for two 8 oz (250 mL) servings
¾ to 1-cup cut up mango
one cut up small ripe banana
4 ounces (125 mL) double-steeped and cooled Organic Masala Chai tea
1 tsp flax seeds
4 – 5 ounces (125 mL – 147 mL) vanilla Greek yogurt
a pinch of ground cinnamon
Method:
blend all ingredients in a blender on medium for a good 3 – 4 minutes
pour into glasses and enjoy!