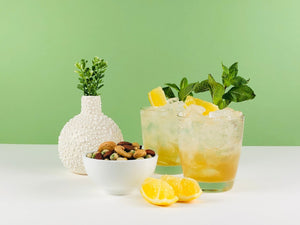 Mint Green Tea Spritz
We all like to celebrate special occasions, like St. Patrick's Day. However, not all of us are into alcoholic drinks or the morning after drama. Here's an idea for a tasty mocktail using Organic Golden Green tea as a base that makes you feel part of the crowd. It's easy, it's fizzy and refreshing, and it's good for any time of year. This Mint Green Tea Spritz is all tipple and no topple! 
Refreshing and Delicious!
Ingredients (Serves 6)
- 3 Organic Golden Green tea bags, or 3 tsp loose-leaf
- 3 cups water heated at recommended temperature for green tea
- 1/3 cup honey (we used organic honey)
- 2 cups sparkling water
- 3 lemon wedges, plus more for garnish
- ¼ cup finely chopped fresh mint leaves, plus more for garnish
- ice, for serving
 
Instructions:
- Steep tea in heated water for 10 minutes.
- Discard tea bags without squeezing them (or strain loose-leaf tea).
- Add honey and stir well. Add lemon wedges and freshly chopped mint.
- Transfer to a heat-proof pitcher and place in fridge to cool.
- Once cooled remove lemon wedges and strain mint leaves.
- To serve, fill glasses with ice and fill halfway with Green Tea mixture.
- Top with sparkling water and garnish with lemon wedge or mint sprig.
Taste Tip: try this recipe with Imperial Jasmine tea!