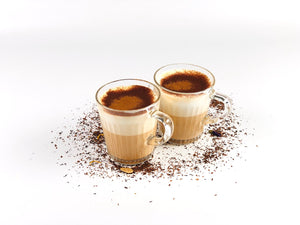 Making a Vanilla Almond Rooibos Latte
As soon as the clock strikes midnight on September 1st every year, little autumn fairies sprinkle pumpkin spice on literally everything - lattes, scones, cookies - even macaroni and cheese (we wish we were kidding). 

To those who love a warm autumn drink and warm fall flavours (hold the pumpkin spice), we have a tea and a drink for that, the Vanilla Almond Rooibos Latte. With antioxidant-rich rooibos tea, amandine oil and almond pieces, this latte (and the tea) offers an amaretto and marzipan finish. Take THAT pumpkin spice! 
Ingredients: for 2 cups
- 2/3 cup water
- 4 teaspoons loose Vanilla Almond Rooibos (use tea filters, it's easier)
- ½ teaspoon vanilla extract (optional)
- 2 cups milk (we used 1% dairy but use any milk you like)
- 2 teaspoons honey
- ground cinnamon for garnish (optional)
Method:
- Boil water in a small saucepan and remove from heat.
- Steep Vanilla Almond Rooibos tea for about 5 minutes. Remove tea and add honey and vanilla extract if using.
- Heat milk in another saucepan until little bubbles start to form around edges.
- Froth milk using a milk frother (we used a French press)
- Divide steeped tea into two mugs and fill to the top with frothed milk.
- Dust with ground cinnamon if desired.