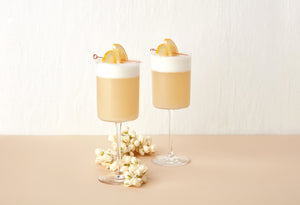 Making a Jasmine Gin Fizz
The slightest whiff of jasmine tea transports me to a tropical paradise. The Jasmine Gin Fizz is an aperitif that takes its inspiration from a warm and languid breeze, enhanced by lemon, honey and a splash of soda. One sip is like an escape to the South Pacific, minus the airfare! 
Ingredients: For One Drink
2 ounces Jasmine infused gin (recipe follows)
1 ounce freshly squeezed lemon juice
2 teaspoons honey simple syrup (recipe follows)
1 large egg white
Ice
1-ounce chilled sparkling water
Jasmine flowers or thinly sliced lemon on a cocktail pick for garnish (optional)
Directions:
In a cocktail shaker combine Jasmine-infused gin, lemon juice, honey simple syrup, egg white and shake well.
Add ice to the cocktail shaker and shake again for a good 10 seconds. 
Strain into a chilled white wine glass and top with sparkling water.
Add garnish and serve. Jasmine Flower Buds 
Jasmine Infused Gin: makes 8 ounces
Place two heaping teaspoons of Imperial Jasmine tea into a glass jar or measuring cup. Add 8 ounces of gin and allow to infuse for one hour. Strain out tea leaves and discard.
Jasmine Infused Gin can be kept at room temperature for up to 1 month.
Honey Simple Syrup: makes 4 ounces
Add four ounces of honey and four ounces of water to a small saucepan and slowly heat until honey dissolves.
Allow syrup to cool before using.
Honey Simple Syrup can be used to sweeten other hot and cold beverages, in salad dressings or sauces.