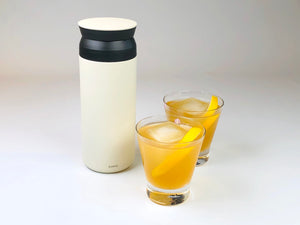 Kinto Travel Tumbler as Cocktail Shaker!
We test drove so many different travel tumblers before deciding to offer the Kinto Travel Tumbler at Blink Tea. This tumbler keeps drinks hot or cold for over 6 hours, is incredibly well-made and easy to care for. 
While the Kinto Travel Tumbler will keep your tea, coffee or other beverages hot or cold and tasting great because of the stainless steel interior, we discovered a tiny little secret that adds another notch to the tumbler's appeal. It also works as a cocktail shaker!  
A friend spending a couple of weeks at a cottage let us in on this little secret. Seeing as their rental didn't have a shaker and they forgot to bring their own, they decided to give the Kinto a try at shaking up some drinks for a sunny afternoon. It worked like a charm. 
They merely dropped in some ice and the cocktail ingredients, gave it a good shake and poured their drinks through the lid, which acts as a strainer. How inventive is that?
We're not saying the Kinto will replace the tried and true cocktail shaker, but it works in a pinch, and certainly works if you're not into investing in a lot of bar gear for the occasional drinks fest. 
Because the Kinto's interior is stainless steel, it's never going to trap smells and tastes of tea, coffee, soda or even a shaken martini. This means you can sip your fave tea from morning til end of day, and then use it to to shake up a special cocktail for chill time. 
Speaking of which, check out the Gold Rush recipe. It's a very simple to make and delicious cocktail. 
Gold Rush 
Ingredients (for one drink)
- 2 ounces of bourbon
- 1 ounce liquid honey (liquid honey is a simple syrup made using honey instead of sugar)
- 3/4 ounce fresh squeezed lemon juice
- lemon twist for garnish
- ice 
Method:
- fill Kinto Travel Tumbler 3/4 full with ice
- add bourbon, liquid honey and lemon juice and give it a good 5 - 10 second shake
- pour through slotted lid into a rocks glass filled with ice. Rim glass with lemon twist and drop inside
Enjoy!!