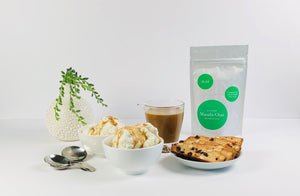 Introducing... the Masala-Gato!
I've had a love affair with the affogato since I was old enough to drink espresso. Ever since launching Blink Tea I tested a tea version now and again, drizzling various teas over ice cream to disappointing results. The tea was too watery, and if I over-steeped it, too harsh. There was seemingly no way I could mimic the seductive dance of espresso with ice cream. Until now. 
Masala Chai Latte Blend
The solution is to use tea microground latte blends instead of steeped loose-leaf tea. We used Masala Chai Latte Blend, which gives a spicy, exotic boost to vanilla ice cream like you've never tasted. Whisked into hot milk, the latte blend's fine-powder grind creates a consistency of a thick espresso. This richness coats the ice cream, bite after glorious bite. It's totally yum.
 
If you're not into Masala Chai, this would work equally well with Earl Grey Latte Blend, or even Beetroot Latte Blend. Experiment and have fun!
Ingredients: (makes 1/2 cup)
- ½ cup milk (we used low-fat coconut milk, but any plant or dairy based milk will do)
- One heaping teaspoon Masala Chai Latte Blend (you want it thick and flavourful)
- Vanilla ice cream – higher fat ice cream works best
- Thin cut biscotti or pizzelle to garnish
 
Instructions:
- Heat milk in saucepan. As it forms bubbles around the edge, add Masala Chai Latte Blend and whisk until fully incorporated.
- Drizzle over vanilla ice cream, garnish and enjoy!