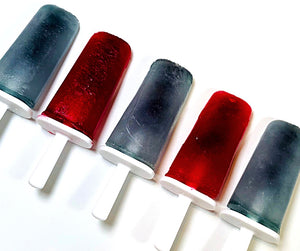 Tea Popsicles - An Exotic Summer Treat
Teas and herbals add an exotic and calorie-conscious flavour twist to this summertime treat!
Whether you add fruit, spices or just use tea straight up, tea popsicles are just the thing you need to beat the heat.
We used Organic Blue Delta, an herbal blend of chamomile with Butterfly Pea Flower that steeps a deep blue and turns purple when you add a squeeze of lemon. You can make a brightly coloured blue and purple layered popsicle with one tea. One tea two ways!
The red popsicles are made using Organic Elderberry Hibiscus for a fruity, herbaceous twist. This herbal blend has Canadian elderberries and Egyptian hibiscus that gives it a tart-meets-sweet taste. Organic Elderberry Hibiscus is a staple for every kitchen.
How to Make Tea Popsicles
Tea popsicles are super easy to make and keep in the freezer for a fun, refreshing summer treat.
Ingredients (for six 4 oz popsicles):
3 cups of steeped tea or herbal of your choice. 
4 tsp of your favourite sweetener (to taste)
Instructions:
Steep your tea or herbal per package instructions.
Add sweetener to taste.
Allow tea to cool to room temperature.
Pour tea into popsicle molds and freeze for 8 hours.
Release the popsicles from the molds and enjoy!