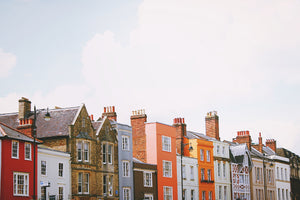 Green Tea Chicken Soup
Is your soul looking for a new take on chicken soup? This recipe comes to us from Sonja in Cheltenham, England, a Blink Tea fan and exceptional cook. Sonja uses strongly steeped Organic Golden Green for her base stock. The rest of the chicken soup ingredients can be found anywhere, but it's how Sonja uses them that makes a tasty difference! 
How to make Green Tea Chicken Soup
Ingredients:
4 chicken thighs, skin on
2 tbsp olive oil
1/2 white onion, chopped into ½ inch pieces
2 carrots, one peeled and thinly-sliced, the other shredded
1 stalk celery, finely chopped into ½ inch pieces
1 bay leaf
2 cups Organic Golden Green tea, strongly steeped and strained (8 – 10 mins)
Four tagliatelle nests (or another long, flat pasta)
¼ tsp dried thyme
1 tsp dried parsley
A few chives, chopped
Method:
Preheat oven to 350 F
Add olive oil to roasting pan and sear chicken thighs on both sides. Ensure thighs skin side up for roasting.
Add onion, carrot, celery and bay leaf.
Add 2 cups green tea, making sure not to completely cover thighs.
Place roasting pan in 350-degree oven for 40 mins; exposed skin not covered by tea should turn crispy.
Remove roasted chicken to plate and set aside.
Strain green tea stock into another pot.
Cook tagliatelle, or other pasta in boiling water until al dente (about a minute less than directions on package).
Add tagliatelle to stock pot with green tea.
Separate meat from thighs and add to stock pot, along with shredded carrot.
Garnish with dried thyme, dried parsley and chopped chives.
Enjoy!