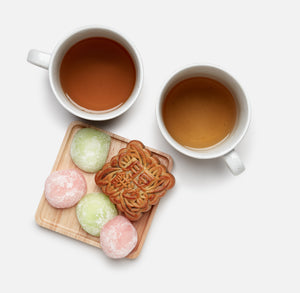 Exotic New Teas Coming Very Soon ;)
Exciting news! We're introducing a bunch of new teas this week at Blink Tea! They range from the delicious to the sublime. We'll be posting profiles of these new teas over the next several weeks, but here's a tease of what's coming up! 
Organic Genmaicha
Grassy, summer harvest Organic Sencha blended with roasted brown rice delivers a savoury, nutty profile that's delightfully thirst-quenching. Named after the faithful servant of a 15th century Samurai who met his fate when roasted rice fell from his sleeve into his master's tea. Now, Genmaicha is a staple of every Japanese household.
Organic Peach Apricot
Sri Lankan Flowery Orange Pekoe mingles with sweet peach, slightly tart apricot and calendula petals in a surprisingly versatile blend. It's at once hearty with a deft touch of stone fruit that dances on the backdrop of a delicate Ceylon black tea. This is a real treat that is delicious hot, iced or as a cold brew.
Organic Lavender Sencha
This playful mix of green tea, herbals and fruit was originally concocted as an iced tea. However, one sip and it has become a hot favourite too. Crisp lavender, peppermint, strawberry and papaya play against a backdrop of herbaceous Organic Sencha to make this tea a refreshing and flavourful treat.
Blueberry White Peony
Picture a flavour rainbow in your cup. Delicate white peony tea, Bai Mu Dan, from China's Fujian province is hand-blended with blueberry, currant, elderberry and hibiscus. The result is a multi-layered, fruity and fragrant tea experience. A consistent favourite, Blueberry White Peony is refreshing and flavourful hot or cold.
Follow Blink Tea on Instagram, Facebook and Pinterest to hear when these amazing new teas are available!