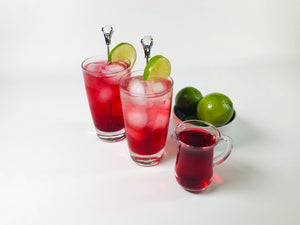 Elderberry Hibiscus Daiquiri
The Daiquiri is said to have been invented by an American engineer working in Daiquiri, Cuba in the late 1800's. Since then this popular drink has been reinvented and enjoyed in countless iterations. Our version uses Organic Elderberry Hibiscus tea, which adds a bit of sweet tartness and showstopper colour. It's easy to make, and even easier to enjoy!
How to Make an Elderberry Hibiscus Daiquiri
INGREDIENTS (Makes One Drink)
- 2 oz (59 mL) Organic Elderberry Hibiscus Tea
- 2 oz (59 mL) light rum
- ¾ ounce (22 mL) fresh lime juice
- ¾ ounce (22 mL) Organic Raw Sugar simple syrup (instructions below)
- Soda water
- Lime slice
METHOD:
- Steep Organic Elderberry Hibiscus tea in 12 ounces of boiled water for 5-minutes. You are making a tea concentrate to counter the ice and liquids used in the drink.
- Remove tea bags and let cool.
- Once cool, add 2 oz of Organic Elderberry Hibiscus tea, rum, fresh lime juice and simple syrup to an ice-filled shaker and shake for 10 seconds.
- Strain into a highball or Collins glass filled with ice.
- Top with soda and garnish with a lime slice or wedge.
Organic Raw Sugar Simple Syrup:
- Add equal amounts of water and sugar to saucepan and heat until sugar is dissolved. Let cool.
- You can use granulated sugar in place of raw organic sugar and achieve the same result.
- Simple syrup will last for weeks refrigerated.