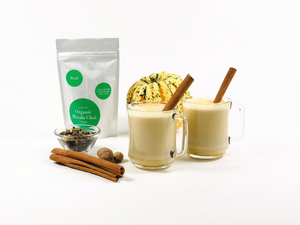 Easy Pumpkin Spice Chai Latte
There are two reasons why I like Pumpkin Spice Latte season. One, because of the latte itself, which has autumn written all over it. The other reason I love Pumpkin Spice Latte season is that it reminds me to enjoy more Masala Chai tea. 
Blink Tea's Organic Masala Chai makes pumpkin spice lattes a total breeze. The blend comprises ginger, cinnamon and clove that you'd have to go out and buy separately. You just need to shop for a couple of extra ingredients and voila, you're sitting back and sipping this spicy, luscious treat in no time! 
Just a Few Ingredients! 
Ingredients: for 2 servings
- 2 cups milk (we used 2%, but you can use any kind of dairy or plant-based milk)
- 2 bags Organic Masala Chai, or 2 tsp loose-leaf (placed into tea filters)
- 4 tbsp pumpkin puree
- 2 tbsp brown sugar
- 1 tbsp vanilla extract
- 1/8 tsp ground nutmeg
- cinnamon stick to garnish (optional)
Directions:
- Stir together pumpkin puree and ground nutmeg in a saucepan on low heat until warm.
- Add milk, chai tea and brown sugar. Simmer on low-medium heat for five minutes, stirring to incorporate all ingredients.
- Remove mixture from heat, remove tea and stir in vanilla extract.
- Froth mixture using a hand frother or French press.
- Pour into two cups and garnish with optional cinnamon stick.
Note: Be aware you're not going to get a ton of froth, just a nice creamy layer. If you want more froth, try heating some extra milk, frothing and dollop on top of latte.