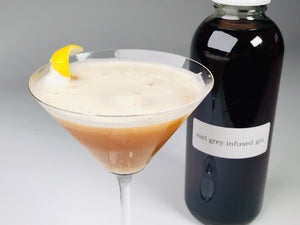 Cream of Earl Grey Gin Martini
Here's an easy to make cocktail that always gets rave reviews, especially from the many lovers of Cream of Earl Grey tea. Created by a bartender at Bemelman's Bar at New York's Carlyle Hotel, it's slightly non-trad and refreshing with just the right proportions of Cream of Earl Grey tea and gin to delight the palate.  
Ingredients (per drink):
1 ½ ounces Cream of Earl Grey Infused Gin (see below)
1-ounce fresh squeezed lemon juice
1-ounce simple syrup (see below)
1 egg white
2 – 3 drops peach bitters (optional)
Handful of ice
Lemon peel to garnish
How to make a Cream of Earl Grey Martini:
Combine all ingredients except ice into a cocktail shaker and give it a good 10-second "dry" shake.
Add ice to shaker and give it another 10-second shake.
Pour into chilled glasses and add a lemon twist.
Option: rim chilled glasses with sugar.

You're welcome!
Cream of Earl Grey Gin Infusion (for 4 drinks):
Pour 1 cup gin into jar or glass container, and add four Cream of Earl Grey pyramid tea bags or four teaspoons of loose-leaf tea.
Let infuse for a few hours then squeeze and discard tea bags or strain out the leaves. You can make a ton of this at a time, as the Infusion will last forever refrigerated.   

Easy Simple Syrup recipe:
Simple syrup is a staple of many cocktails. It can also be used to add sweetness to cold brew tea, iced tea and other cold drinks.
Add equal amounts of water and sugar to saucepan and bring to boil, stirring until sugar has dissolved.
Once sugar has dissolved remove the saucepan from the heat.
Allow to cool.