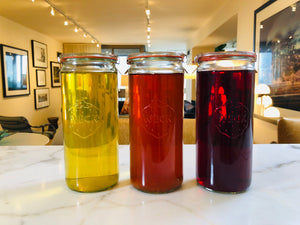 Learn how to make cold brew tea at home
Cold Brew tea got its start in the world of coffee. Tea lovers soon adopted this steeping process for tea, with good reason. Cold brewing tea is easy and extracts more nuanced flavour and less bitterness from tea leaves than steeping teas hot for iced tea. Try Cold Brew tea once and you'll be sure to make it again and again.
How to make Cold Brew tea
You can use almost any tea or herbal to make cold brew tea. Take your taste buds on an exotic journey with Organic Sakura Rose (top, left). For something bold and fragrant try Cream of Earl Grey (top, centre). Or, make something colourful and fragrant with Organic Elderberry Hibiscus (top, right).
Step 1: Simply add one teaspoon of loose-leaf tea or one pyramid bag into a steeping jug or resealable jar for each 250 mL (8-ounce glass) of cold brew tea you are making. 
Step 2: Fill the steeping jug or resealable jar with tepid, or room temperature water. We like to leave the cold brew on the counter for one hour to let the tea leaves and water acclimatize.
Step 3: Pop the cold brew tea into the fridge to steep for 4 – 6 hours or overnight.
Step 4: After 4 - 6 hours in the fridge, strain the tea leaves or remove the pyramid bags before enjoying your cold brew.
To serve your cold brew tea: Add some sweetener like honey or agave syrup and ice into a glass and top with your delicious cold brew. For an extra special touch garnish with a lemon or orange slice, maybe a sprig or two of mint. And voila, you've got an exotic and refreshing drink that's hydrating and part of a healthy lifestyle.