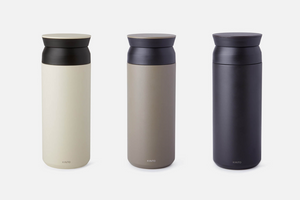 Choosing the Right Tea Tumbler
I'm not sure about you, but my kitchen doesn't have the kind of real estate that allows for much clutter. And if I can find one thing that does the job of two or three things, it really helps save precious space. I've also saved the planet from additional waste and can find that one item easier (I hope) than a few different items scattered who knows where. What am I talking about? A travel tumbler for my tea. Specifically, the Kinto Travel Tumbler. 
So Much Choice!
When I launched Blink Tea I knew we had to offer a few tea accessories to go with our teas, herbals and latte blends like filters, infusers and tea pots. Each has been a challenge on its own to source as I'm kind of (very) choosy. But finding a tea tumbler was something different. It had to be sturdy, look good, keep liquids hot or cold for a long time and be easy to clean. Did I mention it had to look good? 
LOOKS GOOD AND IT WORKS
We landed on the Kinto Travel Tumbler because it met all these benchmarks and more. The insulated interior is lined with typically odour-free stainless steel, a real benefit if you like to use your tumbler for more than tea. The lid has slots that let you drink from any angle while not allowing hot liquids to burn your lips or tongue. The screw cap also fits nice and tight and the understated design looks good anywhere and everywhere. 
HOT OR COLD OR …

The Kinto Travel Tumbler keeps liquids piping hot or icy cold for at least six hours. Plus, the heat or cold don't transfer to the exterior of the tumbler, so no surprises when you pick it up. The finish is a durable powder coat with a slightly rough finish. This guards against scratches and makes the tumbler less likely to slip out of your hand. The tumbler drops into your bag, cupholder or slips onto your bike. It's a tea tumbler that's a team player.  
TASK MASTER

But the Kinto's multitasking doesn't end there. Because the lid and cap assembly is so leak-free, the Kinto Travel Tumbler also makes an amazing…wait for it…cocktail shaker. Drop in some ice and cocktail ingredients and give it a shake. Right side up, upside down or sideways with not a drop of your cocktail escaping. And the lid acts as a strainer! 
It took trying a lot of samples to find just the right travel tumbler to offer our customers. We found one tumbler that does it all, with minimalist Japanese design and unquestioned functionality. Good design and versatility are always trendy, and guarantee that the Kinto Travel Tumbler will become your trusted travel companion.